Denmark – Redigér det hydrologiske tilpasningslag
De hydrologiske tilpasninger i SCALGO Live kommer fra GeoDanmark. SCALGO ajourfører løbende de landsdækkende hydrologiske analyser i SCALGO Live med de nyeste GeoDanmark-data.

Kommunerne kan redigere GeoDanmark via GeoDK-editoren eller via tredjeparts-applikationer der bruger GeoDK-API'et. Når disse redigeringer er indsendt og godkendt i GeoDanmark, vil de komme med i den næste opdatering af analyserne i SCALGO Live.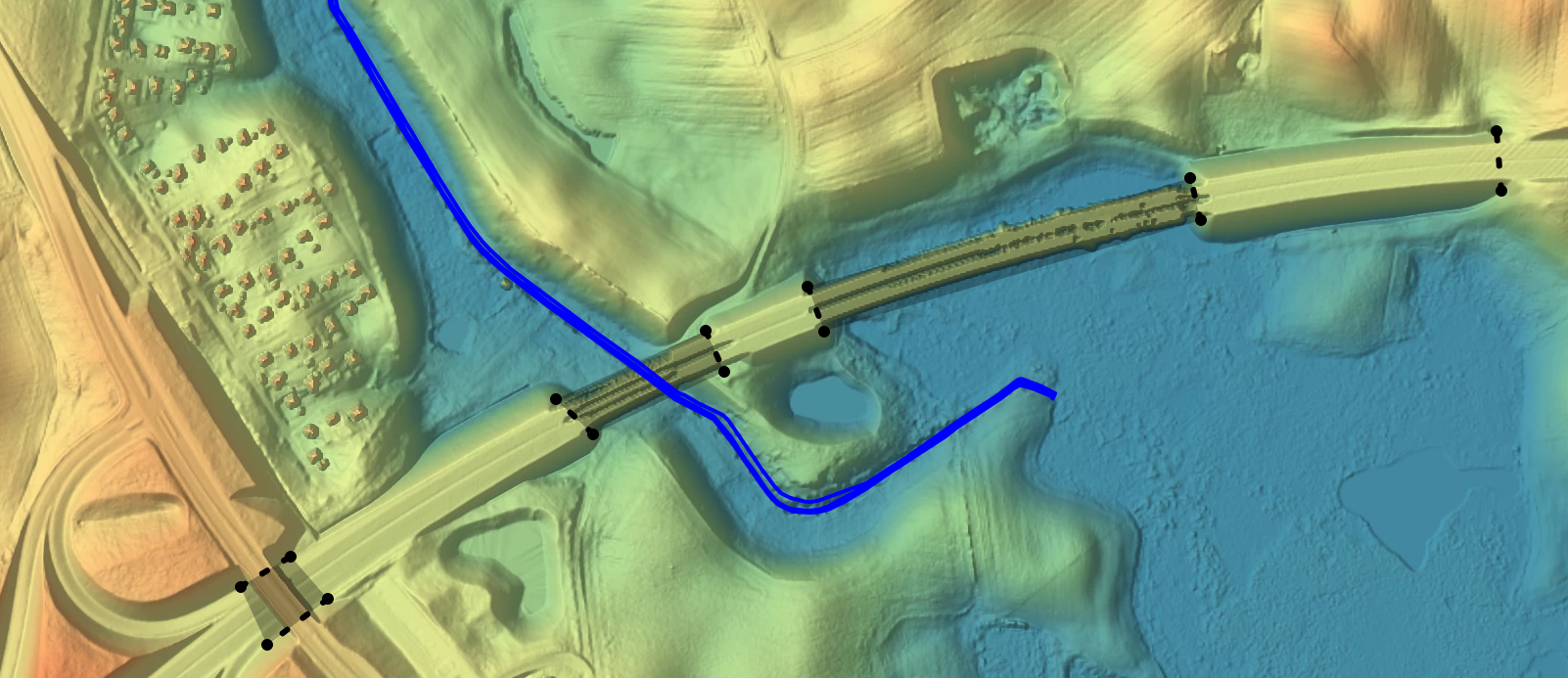 Redigeringer i GeoDanmark laves gennem en såkaldt "sag" i GeoDK-systemet. I GeoDanmark ligger tilpasningerne i de to datasæt der hedder "DHMLinje" (se specifikation) og "DHMHestesko" (se specifikation).
Feltet "brugesher" på hver tilpasning er væsentligt for analyserne i SCALGO Live, da det afgør om tilpasningen skal fungere som underføring i både skybrudskort og havstigningsanalyse (brugesher=generel), om tilpasningen kun skal være underføring i skybrudskortet (brugesher=regn), om tilpasningen skal fungere som en lukket sluse der blokerer vandet i havstigningsanalysen (brugesher=hav), eller om tilpasningen skal ændre i den fysiske højdedata pga. fejl i laserscanningen (brugesher=dhmfix).
SCALGO Live GeoDK integration
SCALGO har udviklet en integration mellem SCALGO Live og GeoDK-API'et som kommunale SCALGO Live-brugere kan bruge til at redigere i de hydrologiske tilpasninger i GeoDanmark. Integrationen gør det muligt at forberede redigeringer i GeoDanmark i et (næsten) almindeligt SCALGO Live-arbejdsområde.
Inden du kan få adgang til GeoDanmark-integrationen i SCALGO Live, skal man have adgang til GeoDK-editoren. Det er typisk kommunens GIS-afdeling eller GIS-medarbejder der kan hjælpe med at få adgang - SCALGO kan ikke hjælpe med denne del. Det er værd at bemærke at GeoDanmark-systemet holder styr på hvilke brugere der har adgang til hvilke områder, så det er vigtigt at få det sat rigtigt op.
Når du har fået adgang til GeoDanmark og GeoDK-editoren, kan du sende en email til SCALGO Lives support på support@scalgo.com og bede om adgang til GeoDanmark-integrationen i SCALGO Live. Herefter kan du lave et SCALGO Live GeoDK arbejdsområde og arbejde på tilpasningerne:
Klik på "tilgå GeoDanmark"-knappen i "Bruger"-menuen øverst til højre i SCALGO Live. Når du klikker på den, skal man muligvis give browseren tilladelse til at vise popups fra SCALGO.
I popup-vinduet logger du ind med samme brugernavn og kodeord som du bruger til GeoDK-editoren. Ved succesfuldt login fremkommer en "GeoDanmark"-knap op i topbaren ved siden af den sædvanlige arbejdsområde-knap.
Opret en GeoDanmark-sag som bliver koblet til SCALGO Live ved at lave et arbejdsområde via GeoDanmark-knappen.
Du kan nu lave ændringer direkte i tilpasningslaget via dit nye arbejdsområde. Ændringerne bliver direkte oprettet på den tilsvarende GeoDK-sag.
Når du er færdig med at lave tilpasninger kan du genberegne arbejdsområdet og se effekten af dine tilpasninger.
Når du er tilfreds kan du sende sagen til godkendelse. Det kan du gøre direkte i SCALGO Live, eller via GeoDK editoren. Bemærk at hvis du ikke selv har ret til at godkende ændringer i GeoDK skal den muligvis godkendes inden den kommer ind i GeoDanmark; spørg din GeoDanmark-konktakt om hjælp til dette.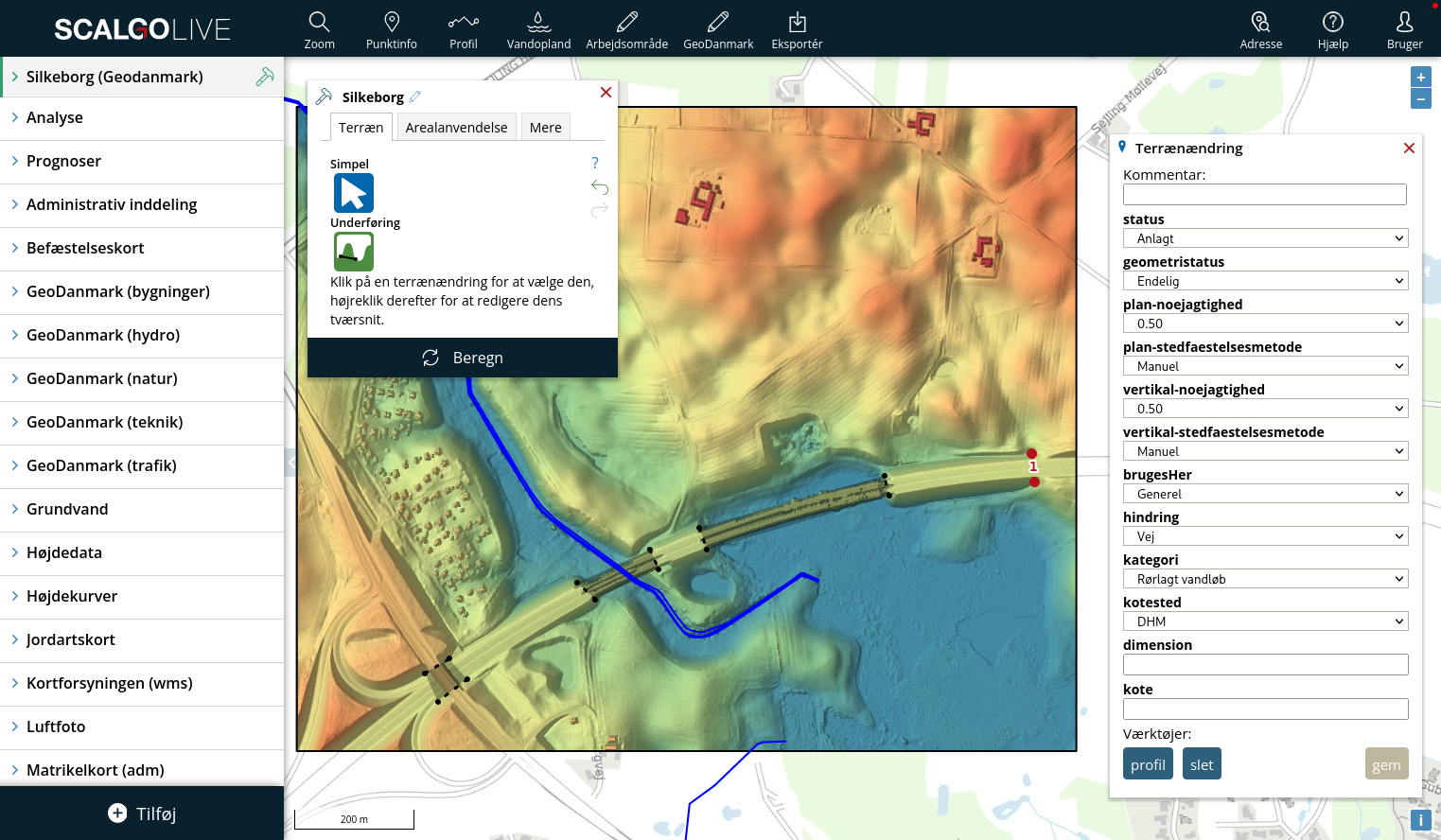 Begrænsninger
Den nuværende version er rettet mod hydrologiske tilpasninger i skybrudskortet (dvs. brugesher=generel, brugesher=regn), da hydrologiske tilpasninger med brugesher=havstigning og brugesher=dhmfix af tekniske årsager anvendes som underføringer i arbejdsområdeanalysen i SCALGO Live når man arbejder på en GeoDanmark-sag. I de nationale analyser vil disse tilpasninger blive "brændt" ind i terrænmodellen. Det er stadig muligt at lave oprette/ændre/slette tilpasninger med brugesher=havstigning og brugesher=dhmfix, men man kan ikke se effekten af dem i den nuværende version af integrationen.